Hello, you beautiful broccoli.
We're open for bee's knees
Attention Anti-virus users!
Our launcher will be flagged as a virus (apparently), please add an exception or disable your anti-virus.
We're unsure as to why it's being flagged. It could be because it uses FTP protocol, but we're unsure.
Thanks.
You can make your account using the same method as previous.
On the login screen, make your account using a username followed by _n
Example : bert_n
password : tickleme
Then you can log in and it should display a message, saying account creation successful.
Go back and remove the _n from the end of your username and you can log in, so now I'd use
bert
tickleme
to get in.
If you get an error whilst making the account, try using a different username, someone may have already stolen it from you! :C
If it still doesn't work, feel free to PM one of us <3
Link to download :


Attention ladies and germs!
You will require the latest manual patch found here, and apply it to the above installations until I update the installers (Soon, hopefully, once my net stops being trash)
Find the patch here :
http://psu-clementine.net/viewtopic.php?f=24&t=2340
If there are any issues with the above downloads, let me know and ill try to fix them asap.
Hey there you cauliflowers (a little update here)
I've had alot of requests on how to fix the options being in JP, this was an error on my part when originally creating the installer and not changing my options config properly (this is why it also includes my own directories >.>)
I've created an installer to do the job of fixing it for you, but because I only slapped it in discord everytime someone asked, I imagine some people are still feeling a little lost. This was originally created because a couple users couldn't get access to their appdata folders due to lack of administrator priviledges on their machine!

>>>Quick Fix
https://drive.google.com/file/d/0B1wmjMxfEHh1RW95UXRlMTFGblk/view
-- Google Drive download for the quick fix.
https://mega.nz/#!hdtwnY6B!D50lTCsxr2hVoErlCx1jl5fIe2v2qZ-Ss8nZG-5ZZ8s
-- MEGA download for the quick fix.
>>>Manual Fix
I'll also run you down the basics on how to fix it, if you don't trust the installer or you'd just prefer to do it yourself!
So, first up you want to open your file explorer (This is the lovely thing that you view files in)

Theeen you want to hit up that directory bar at the top and type in %localappdata% (This should work on any Windows OS - XP and above)

Once in there, scroll until you find the SEGA folder.
Open that sweet Phantasy Star Universe Ambition of the Illuminus folder.
Inside that folder, should be an ini named PsuIlluminus.ini
You can open this file with any text editor, be it notepad, notepad++ (whatever you want really)
Then simply change the LANGUAGE from J to AE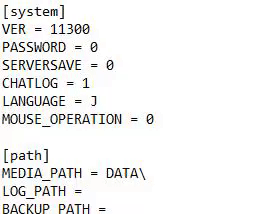 Save it! CTRL+S or file -> save
Re-open those sweet options, and it should now be in English!
Sorry for the inconvience of my mistake ;-;
Love you all secretly.
I look forward to seeing you there
Marmalade - "I don't" 00:52am, 09/12/2016
to jake
love from gnom